Hell's Glitch – A Good LitRPG for fans of dark adventure games!
*Hell's Glitch (LitRPG): Into a Dark Adventure by Belart Wright. Price is: Free, Please Review. Genres are: Fantasy of the Day, Sponsor, Adventure. Please read and leave a comment or review on the book's Amazon's Page.
Flirt Her Up – A Guide Designed to Help Thousands of Men Build their Confidence around Women!
*Flirt Her Up: How to Use the Power of Words and Witty Conversation to Attract, Interact and Connect with Women in Any Setting (Dating Advice For Men) by Stella Belmar. Price: Free. Genre: Nonfiction Book of the Day, Sponsor, Dating Tips for Men. Rated: 5 stars on 3 Reviews. 95 pages. ASIN: B072Q23Q9J. Smart tips on how to date effectively. Please leave a honest review after reading it.
January – Light, Enjoyable & Absolutely Ravishing!
*JANUARY: Unmastered and Unequalled (THE MEN of HARD SERIES) by Claudia Vincetti. Price is: Free in Return for a Review. Genres are:
Romantic Erotica, Spicy Adult Romance. Synopsis: There is nothing ordinary about Rayan Soloman. On the pin-up calendar, he is JANUARY.He is one of those incendiary hot, please don't stop—faster; deeper; faster her pleasure is paramount kind of males—there's no other word for him he's 'raw pleasure'. This tall, ebony eyed stranger who makes love like a wildfire, in actuality is a dark son of espionage, an unorthodox man from the shadows—so different from the woman he's enthralled.
Free Lunch in NYC
*Free Lunch in New York City by Matthias Drawe. Price: Free. Genre: Literary Humor Book of the Day, Sponsor. Rated: 4.4 stars on 19 Reviews. 256 pages. ASIN: B01M4S9IGF. Synopsis: The young filmmaker Hardy von Hachenstein has set up shop in New York. He longs put his screenplay into the hands of legendary producer Floyd Burns, but this harder than getting a date with the Queen of England.
Earth Seven: A wrecked spaceship, two young boys. What could go wrong?
*Earth Seven: And the History Department at the University of Centrum Kath by Steve M. Price: Free. Genre: Science Fiction Book of the Day, Satire, Adventure, Science Fiction. Rated: 5 stars on 2 Reviews. 399 pages. ASIN: B0725XS6TQ. A smashing futuristic Science Fiction with an interesting premise.
Siphoners – (Soul Burn Book 1)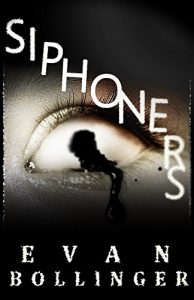 *Siphoners (Soul Burn Book 1) by Evan Bollinger. Price is: Free. Genres are: Occult Horror Book of the Day, Sponsor. 382 pages. ASIN: B074FX35NK.

Synopsis:

 Four strangers with the power to siphon human life suddenly find that power violent and volatile beyond their darkest dreams. Please leave your review on the Book's Amazon Kindle page.
The Witch, Book I in the Trilogy.
*The Witch (The Earth Trilogy Book 1) by K. Stevens. Price: Free. Genre: Paranormal & Urban Fantasy. Rated: 5 stars on 1 Reviews. 106 pages. ASIN: B073NN3VV2. Synopsis: Contrary to popular belief, not all Terrans are humans. There are plenty of creatures – some bipedal and some not – born on Terra but born free of humanity. These 'non-human' Terrans have lived successfully among the humans for longer than the humans have known, hiding behind fairy tales, myths, and legends.
Please Note: Authors are offering files only for readers who agree to review it. And only for ReviewSaint readers and BooksButterfly readers. Please do not share this file on any other site. That threatens the author's livelihood. We don't have millionaire authors. They are everyday people like you and us. You are welcome to direct your friends and family to the ReviewSt blogs or to the reviewst.com sign up site (www.reviewst.com)