A Screenplay on the 2008/09 Financial Crisis! A Book of Its Kind!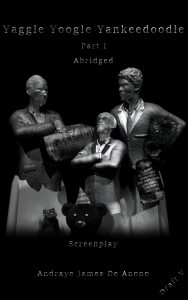 *Yaggle Yoogle Yankeedoodle Part I Abridged Draft V: Screenplay illustrated with picture set A by Andrayo James De Anono. Price is: Free in return for a Review. Genres are: Science Fiction Book of the Day, Sponsor, Business & Money, 2008 Financial Crisis. Support the author! Please leave a honest review on the book's page on the store. See the YouTube video here.
Read the Reviewers' Code of Honor Here.
Author is offering files in the hope of getting reviews. And only for ReviewSt readers and Books Butterfly readers. Please do not share this file on any other site. That threatens the author's livelihood. We don't have millionaire authors. They are every day people like you and us. You are welcome to direct your friends and family to the ReviewSt blogs or to the reviewst.com sign up site (www.reviewst.com).