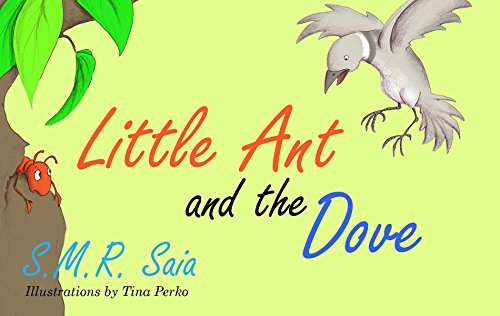 *Little Ant and the Dove: (Moral: One Good Turn Deserves Another) (Little Ant Books Book 5) by S.M.R. Saia, Tina Perko. Price: Free. Genre: Children's Book of the  Day, Sponsor, Moral Lesson, Bedtime Stories, Bugs & Spiders, Emotions & Feelings. Rated: 5 stars on 1 Reviews. 25 pages. ASIN: B06XHVNQ2Y. Please Note: Author has made this book free in return for a Review. When done reading it, please leave a Review at the Amazon Kindle Store Page. Thank you.
*Speech Therapy Np More (Downloadable .Mobi Version) by Heather Graham. Price is: Free in Return for Reviews. Genres are: Children's Book of the Day, Sponsor, Self Discovery, Friendship & Social Skills. Please Leave a Review on the Amazon Kindle Page. Thank you!
Please Also Note: Author is offering files only for readers who agree to review it. And only for ReviewSt readers and Books Butterfly readers. Please do not share this file on any other site. That threatens the author's livelihood. We don't have millionaire authors. They are every day people like you and us. You are welcome to direct your friends and family to the ReviewSt blogs or to the reviewst.com sign up site (www.reviewst.com) Very Important -> Please include a line at the end of your review: I received a free copy of this book from ReviewSt in return for an honest review. Blogs: Romance, Erotica, Mystery, Thrillers, Suspense, Christian, Science Fiction, Horror, Fantasy, Historical, YAFiction, Kids, NonFiction, Literary, Adventure, Women'sFiction, Cookbooks, Memoirs, HowTo Sign up for Review Saint Emails –  Romance, Mystery, Thriller, Suspense, Christian, Non Fiction, Historical, How To, Cook books, Memoirs, Science Fiction, YA Fiction, Fantasy, Horror, Kids Books, Adventure, Literary, Women's Books ************************************************* Books Butterfly Family – Books Butterfly Book Promotions (www.booksbutterfly.com), Review Saint Review Service (www.reviewst.com/getreviews/), and New Book Launch Promotion (www.newlaunchpromotion.com).